FACT SHEET​
Publisher:
Open Sesame Games
Author:
Arnaud Cuidet
Artists:
– Dimitri Bielak
– Camille Durand-Kriegel
– Ervin
– Jonathan Hartert
– Rémi « Remton » Le Capon
– Jérôme Oyhenart
– Geoffrey Stepourenko
– Sabrina Tobal
Ulule campaign:
From January 21th to March 6th, 2020
Target:
Role-Playing Games players
More information:
– Ulule Campaign (French)
– Facebook Page (French)
– Subscribe the Newsletter
Press / Business Contact:
contact@crowdfunding-agency.com
DESCRIPTION
Metal Adventures is an epic role-playing game of action and exotic adventures featuring Space Pirates.
Brave, fearless and rebellious, they explore the Galaxy in search of glory, thrills, forgotten treasures and justice. Explore unknown systems, retrieve unique treasures, discover the remains of vanished alien civilizations, fight pillagers and other slave traders or foment a revolution… the adventure has only one limit: your imagination!
Released in 2009, Metal Adventures now has a large and invested fan community, notably thanks to the development of the game and its universe, through the release of 8 supplements.
behind the scenes
DOWNLOADS​
Illustrations
LOGO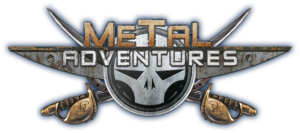 The Team
The Publisher
Open Sesame Games
The Author
Arnaud Cuidet
The Artists
Dimitri Bielak
Camille Durand-Kriegel
Ervin
Jonathan Hartert
Rémi « Remton » Le Capon
Jérôme Oyhenart
Geoffrey Stepourenko
Sabrina Tobal
The Communicators
The Crowdfunding Agency
Press / Business Contact: contact@crowdfunding-agency.com
ADDITIONAL LINKS & CONTACTS​